Get into teaching event
16th November 2021 at 5.30pm - 7pm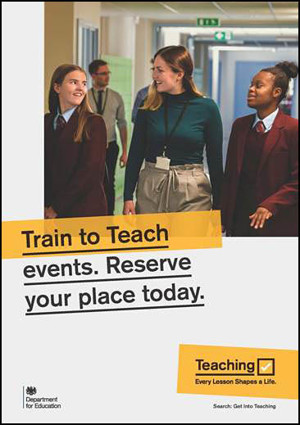 Are you interested in a new career in teaching? If so, this is the perfect opportunity for you to learn all you need to know about teacher training with our partnership and how to apply.
Come and meet us at Lampton School, Lampton Avenue, Hounslow, Greater London, TW3 4EP on Tuesday 16th November between 5.30 – 7pm. This free Train to Teach event is a great opportunity to ask all your questions about a career in teaching.
Who is this event for? This event is designed for anyone who already has a degree (or is just completing their degree), career changers and are interested in teaching – particularly those who are considering starting their initial teacher training in September 2021. It offers a great opportunity to get all your questions about teaching and teacher training answered.
What to expect: If you attend you'll be able to:
discuss the different training options available within our partnership, to help you decide which would best suit you
meet representatives from our partnership and find out about our entry requirements
receive advice on submitting a successful application
find out about bursaries, scholarships and funding available for teacher training
The event will include a presentation at 6.00pm and will be followed by the opportunity to ask questions.
Register today.
https://getintoteaching.education.gov.uk/events/211116-lwa-scitt-train-to-teach